Our
Network
Connectivity Across The Kingdom
North Train
North Train Network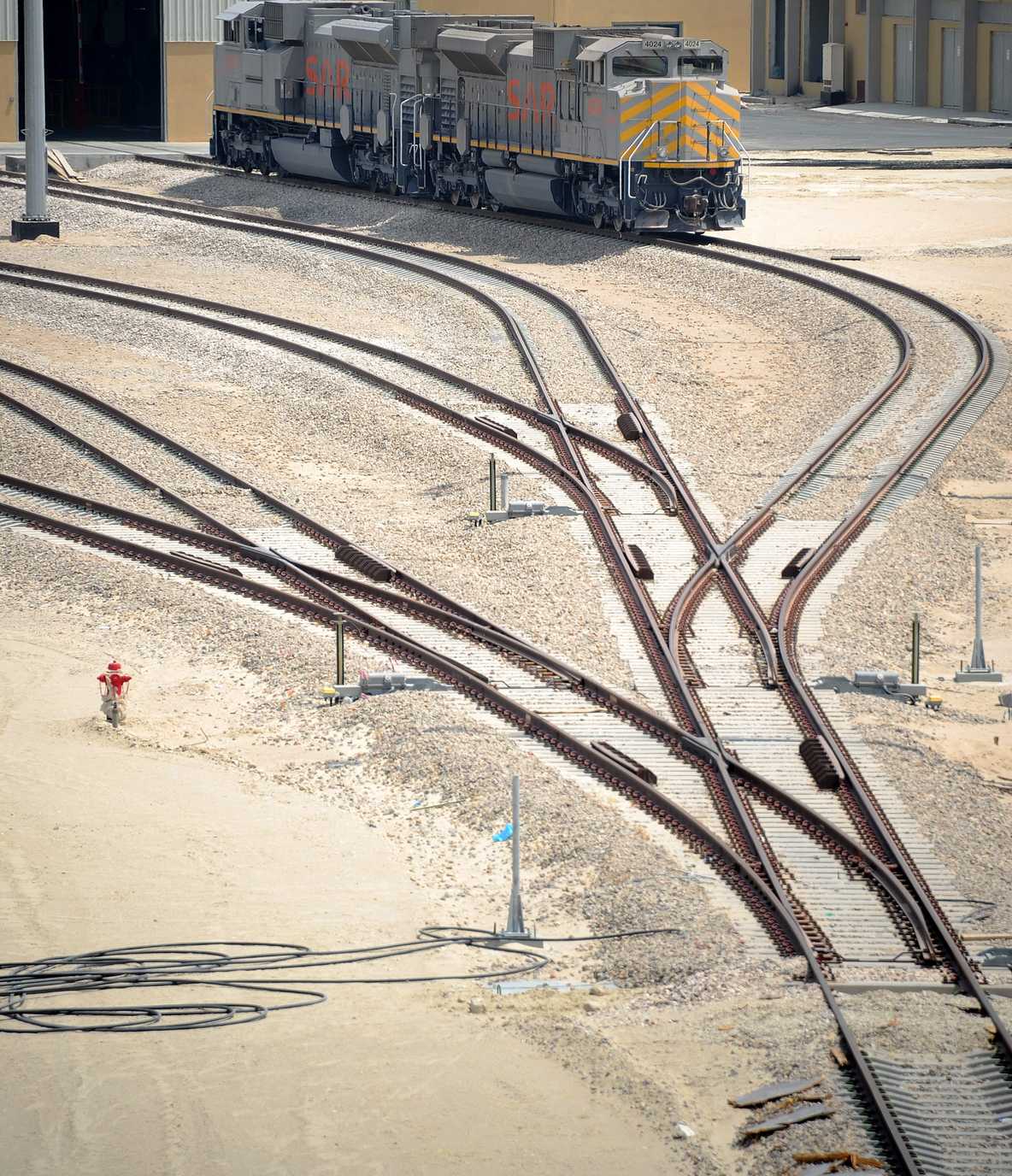 The North Railway, known formerly as the North and South Railway (NSR), with a length of (2,750 km) while some of its parts are still under construction, it is the longest railway network in the world that European Traffic Management System level 2 (ETCS-L2), which is considered a unique signaling and telecommunication system in order to ensure higher reliability, and improve the level of safety and security for passengers, employees, and goods.
North Train Passenger Line
With a length of 1,250 Km .The passenger line originating in Riyadh running northwest towards Al Haditha near the Jordanian border. The line will pass through Majmaah, Qassim, Hail, Jouf and Qurayyat.
North Train Freight Line
With a length of 1,550 Km, The freight line runs from Al-Jalamid mine in the Northern Province and then passes by Jouf and Hail until a point referred to as 'AlBaithah Junction, in Qassim province. From there the line heads east to the processing and export facilities in Ras AlKhair in the Eastern province on the coast of the Arabian Gulf.
North Train Fleet
The bi-directional Passenger trains comprise 2 locomotives and 8 passenger coaches. SAR operates 4 day trains and 2 night trains. Each day train has a maximum seating capacity of 442, including both Business Class and Economy areas, along with a fully equipped restaurant.
Night trains include hotel quality bedding and amenities accommodating a maximum combined capacity of 364 seats and sleeping berths. Night trains will eventually be also able to transport up to 20 cars in 4 specially converted carriages, planned to be launched in conjunction of the opening of Qurayyat station.
SAR runs one of the world's longest Freight trains, as it reaches a length of 3Km and a capacity of 16,000 Tons. SAR North freight fleet consists of 61 Locomotives, and 523 Wagons dedicated to the transportation of Phosphate mineral, 240 wagons for Bauxite transportation, 562 wagons for Molten Sulphur, and 589 wagons for Phosphoric Acid (MGA).
East Train
East Train Network
SAR East operates on a railway with network total length of approximately 1,775 kilometers, extending from King Abdul Aziz Port in Dammam and the City of Dammam itself (on the Kingdom's east coast) to Riyadh, the Capital which passes by Abqaiq, Hofuf, Haradh, Al-Tawdhihiyah and Al-Kharj. In addition, some auxiliary lines branch from the main lines to connect some industrial and agricultural areas and military sites with export ports and residential areas
East Train Passenger Line
The Passenger Line: is a double line with a total length 733-kilometer line that connects the capital Riyadh to Dammam through Al-Ahsa and Abqaiq.
East Cargo Train
The Cargo is a 556-kilometer line starting at King Abdul Aziz Port in Dammam and ending in Riyadh, passing by Al-Ahsa, Abqaiq, Al-Kharj, Haradh and Al-Tawdhihiyah.
East Train Fleet
The East Train fleet consists of 102 diesel locomotives and 75 passenger cars. These are classified into Business Class with 94 seats, and Economy Class with 194 seats per train. Each train on our East network also has an onboard cafeteria and prayer area.
Cargo cars total 2596 of different sizes and types, including 858 cars for double stacking of containers, 948 regular cars for containers, 201 cement transportation cars, 135 grain hauling cars, 47 flatbeds for transporting vehicles and 60 cars for hauling rocks.
The capacity of each double stacking cargo car is 80 tons. Regular cars for containers have a capacity of 50 tons. This brings the total capacity of cargo handling by both types of cars in SRO to 48,250 tons.
HARAMAIN HIGH SPEED RAIL (HHR)
Haramain High Speed Rail (HHR) is one of the world 10 fastest trains , with a 300 kilometers per hour electrified line that links Makkah to Madinah and passes through three stations: Jeddah, King Abdul Aziz International Airport, and King Abdullah Economic City in Rabigh.
The HHR project is a crucial component of the development plan and the expansion program of the Saudi railway network. This project links the two main cities at the western region, meets the increasing demand to serve the rising number of internal and external pilgrims with a capacity of 60 million passengers a year, and it alleviates congestion on roads in Makkah, Madinah, and Jeddah. Not least the project is to provide comfort, safe and fast transport services. HHR has 35 trains each has 13 cars and 417 seats. To buy tickets or get more information on SAR HHR network , please visit sar.hhr.sa